These jeans, man. Oh, these jeans. First seen in the pages of Nylon, tracked to Shopbop (where they were sold out in my size, then literally two days later, sold out entirely), hunted for online and off, and finally inadvertently stumbled upon at a denim specialty retailer on a chance trip to a new luxury shopping complex in Bellevue, Washington. Fate? I kinda think so.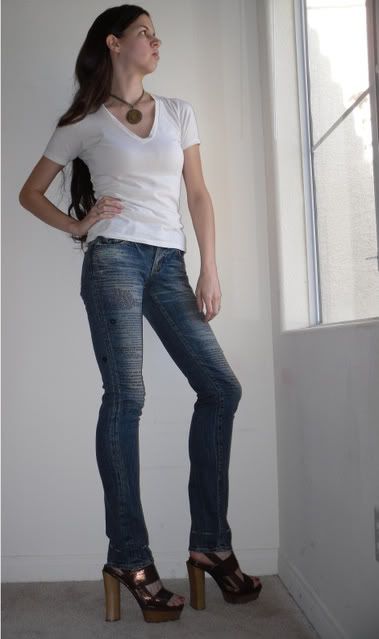 T-shirt, Fluxus. Jeans, PRPS. Sandals, Marni.



Necklace, vintage.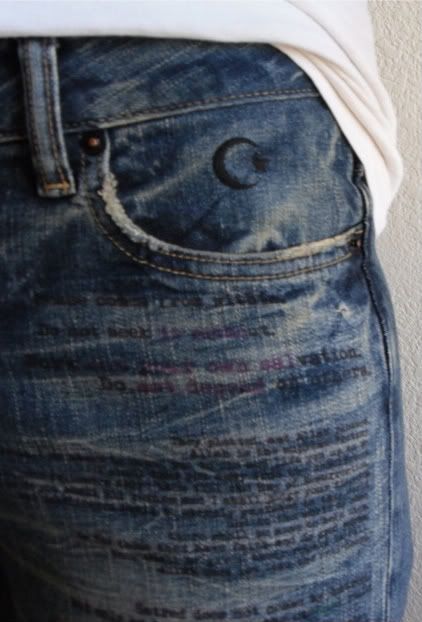 Peace comes from within. Do not seek it without. Work for your own salvation. Do not depend on others.
I wanted a look that would let the jeans stand out without being too boring. I wore my Marni sandals for height and a bit of glimmer, and because I intended to check out the new Marni store today in a recently opened shopping center in town. I didn't actually make it to the shopping center, but boy was I ever tall. The necklace I'm wearing is one of my favorites, purchased in an antique shop in Oregon.
I'd only read about PRPS jeans prior to finding this pair, but I'm definitely loving them - they're super comfortable, and frankly the most interesting pair of jeans I've ever owned. I'm kind of banning myself from buying anymore denim for a long while though, seeing as I did a count and realized I have fully seventeen pairs of jeans in my closet...good grief. New Year's Resolution: I will learn restraint. Besides, how could I possibly find a pair I like more than these?